Pulling truck headers serve a dual purpose. The primary purpose is to allow the engine to continue to run and expel exhausts gasses quickly even after the power of the engine has topped off and continues to run. Trucks continue to pull at max power curves to achieve their pulling distance goals. The second reason is to simply look stunning. Part of pulling is all about looks and wow factor. GP headers can build you the ultimate set of pulling truck headers that will both outperform the competition and look amazing. We can truly build custom – per application headers that will be 100% geared towards the performance of your pulling truck engine. Naturally aspirated or Turbo applications, we can do it all. All of our header components, collectors, mandrel bends and manifolds are made by hand in the USA with American sourced 304 Stainless Steel. Contact us now and let's talk about your Pulling Truck header Application.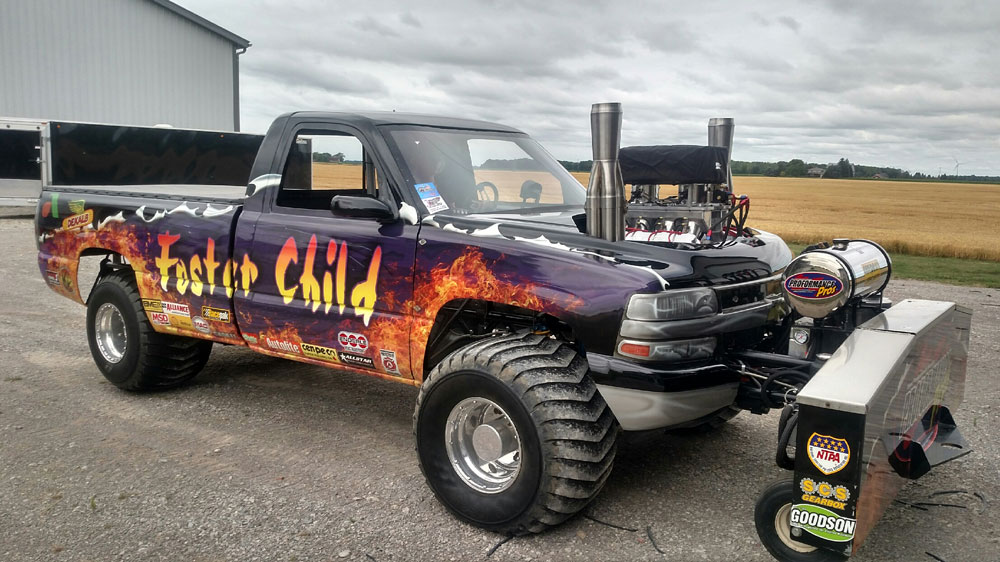 *Pictured above Sonnys 5.0 Hemi Engine with our Vertical Headers Installed
Pulling truck zoomies are usually made for specific applications that require a shorter runner length that will allow the engine to top out quickly and remain at peak horsepower. These are lighter weight and often reinforced to withstand the abuse that your high horsepower pulling application engine produces. GP Headers Inc. Can design pulling zoomies in any configuration to match the application. We are also able to cater to multi engine pulling rigs with our manufacturing process we can do repetitive bends and welds without issue.
Vertical truck pulling headers are designed to have the primary pipes match the angles of the ports of the engine to expel exhaust gasses quickly and efficiently. We use the best American sourced 304 Stainless steel tubing to mandrel bend each runner in house based on your engine specifications. There are no sharp restrictions in these designs. All collectors for these vertical headers are hand built with pride. 100% back purged TIG welded for quality and longevity. Have a unique flange or exotic engine? No problem, we can build you a header that will work right the first time. We have all the options you could want to add, EGT bungs, O2/wideband bungs, etc.. Skip the formed collector headers and go for a set of hand built with pride in the USA Vertical Truck Pulling Headers from GP Headers Inc.
In some classes of truck pulling, Pro Stock 4×4, etc.. The class rules might have the need for downswept headers. These are easily built in house at GP Headers using your exact engine and chassis for a mockup. We are able to take a design and build from it to clear all of the components that you are running so you can pass the class rules. These are no joke, Pro Stock Big Block Chevrolet and C460 Ford engines that are able to handle 1000+ HP applications without a hiccup is a reality. We can help you determine the exact primary piping and design that will achieve your pro stock pulling goals. 100% Custom and Hand Built in the USA!
Naturally Aspirated / Turbo Pulling Truck Headers
Depending on your class rules or your engine setup either naturally aspirated or turbo, we are able to cater an exhaust manifold / header setup that will fit the application and engine perfectly. This is normal day to day stuff for GP Headers Inc. and do not think that your application is too odd or strange we can get your flanges precision cut and fabricate the correct header for you. Contact Usto discuss your application further. Before you know it your pulling header will be finished and ready for the next event!
*Pictured above is Lucas Oil Pro Puller Galen Young's Pro Modified 4WD with Sonny's Upright Headers.
Upright Header Fabrication Details
The following list of header specs will assist us in efficiently and accurately fabricating your set of headers. Please follow the supplied instructions and fill out the following form.
Shop Our Pulling Truck Headers